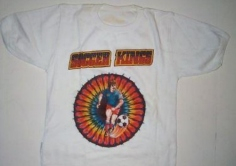 Soccer Kings promo T-Shirt
Amarcord – by Federico Croci
Around the beginning of June, 1982 – I'm playing in a Zaccaria
test arcade in Rimini, on the Adriatic sea, their new
soccer-themed pinball game. Mr. Marino Zaccaria himself brought
it here a few hours ago, and it was installed near the four
"Pinball Champ '82" already there. Four, because one it's
speaking with italian language, while the others have installed
french, german and english speech ROMs.
In this new pinball there are a couple of differences in the
playfield from what it will become later their hit, "Soccer
Kings"; nothing important, just a few hangups for the ball to be
corrected, mainly on the upper plastic playfield. Mr. Zaccaria
also brought with him some gadgets for the arcade owner, Mr.
Burnelli, and I manage to obtain a promo t-shirt. About a month
later Italy will start the competition in the World Cup, which
will finally win. Twenty years ago, I still own that t-shirt..
and we're again in the World Cup.