Sidam / Sipem

A company in Turin: before videogames it produced fussball tables, photo cabinets and such.
It began to copy video games, made especially by Atari, in 1978.
A short time later he was taken to court by Bertolino for plagiarism.
Sidam was condemned in 1983, the judgment was confirmed in various degrees. See page "The Bertolino-Sidam sentence" for details.

Acknowledged its modus operandi was illegal, Sidam started to build and distribute games on a regular license.

Later its name was changed from Sidam to Sipem.
It went on to distribute the games until 2010.

It still exists. It is based in Turin, in strada Francese, but now produces industrial ventilation systems.
PaTrYcK compiled a table reporting all known Sidam PCBs: see here
| Name | Orig. | Year | Emul. | Info |
| --- | --- | --- | --- | --- |
| Cascade | | 1978 | | Copy of Avalanche (Atari) |
| Invasion | | 1978 | | Copy of Space Invaders (Taito) |
| Astro Battle | | 1979 | | Copy of Astro Fighter (Data East) |
| Asterock / Asteroide | | 1979 | | Copy of Asteroids (Atari) |
| Astro Pal | | 1979 | | Partially hacked from Asteroids |
| Rugby | | 1979 | | Copy of Video Pinball (Atari) |
| Crashing Car / Crash | | 1979 | | Copy of Sega's Head on - also with name Crash and "Fraber" brand |
| Crashing Car 2 | | 1979 | | Copy of Sega original |
| Missile Combat / Missile Storm | | 1980 | | Copy of Atari original |
| Condor | | 1980 | | Copy of Phoenix (Amstar) |
| Magic Worm | | 1980 | | Copy of Centipede (Atari) |
| Off / Take off | | 1981 | | Copy of The End (Konami) |
| Explorer | | 1981 | | Copy of Scramble (Konami) |
| Borderline | | 1981 | | Copy of Sega original |
| Bosconian | | 1981 | | Copy of Namco original |
| Galaga | | 1981 | | Copy of Namco original |
| Crush Roller | | 1981 | | Copy of Kural / Alpha D. original |
| Dig Dug | | 1982 | | Licensed from Namco |
| Phozon | | 1983 | | Licensed from Namco |
| Mappy | | 1983 | | Licensed from Namco |
| Pac-Man & Chomp-Chomp | | 1983 | | Licensed from Namco |
| Krull | | 1983 | | Licensed from Gottlieb |
| Mad Planets | | 1983 | | Licensed from Gottlieb |
| Dragon's Lair | | 1983 | | Licensed from Cinematronics, harder |
| The Tower of Druaga | | 1984 | | Licensed from Namco |
| Gaplus | | 1984 | | Licensed from Namco |
| GZ | | | | |
Cascade
Emulated in MAME.

Invasion
Production year is uncertain.

Astro Battle
Emulated in MAME.

Asterock / Asteroide

This game has been cited by Bertolino in the complaint: the software is identical to Asteroids' one, except for some modifications to get rid of the "Pokey" chip, protected by copyright.
Astro Pal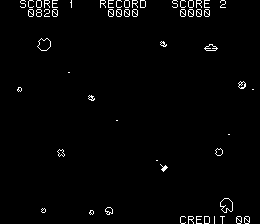 In fact, even this game is a hack of Asteroids with many modifications, in order to make it work with a normal b/w CRT monitor, instead of Atari Quadrascan vector screen.

Rugby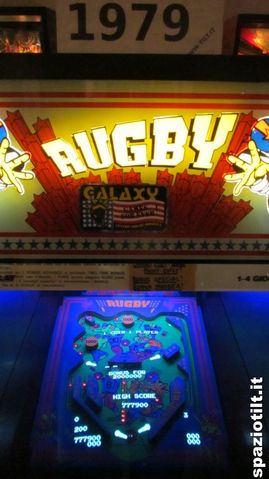 A working unit at the Spazio Tilt arcade in Bologna

There's a working version of this game waiting for dumping. Compared to Atari Video Pinball, ambientation changes completely, and then the background on which was reflected the image of the monitor. At the time, American football was almost unknown in Italy, and was identified as "a sort of Rugby football", hence probably the name.

Crashing Car / Crash
A clone of Head On by Sega, this is very probably unauthorized.
MAME emulates two different versions, one with a monochrome screen, and another with a color screen.
Since the name appears only on the game's mobile, MAME names these two games as "Sidam's Head On bootleg".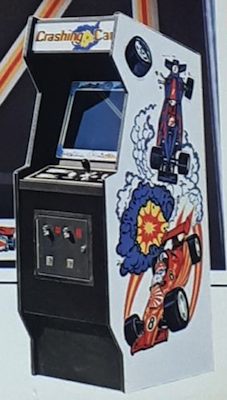 Picture taken from flyer

Crashing Car 2 ?
Clone - also probably illegal - of Head On 2, successor to Head On.
MAME emulates it and calls it "Sidam's Head On 2 bootleg" because the name does not appear on the screen.
We are not 100% sure that the game emulated is actually this Crashing Car 2
Missile Combat / Missile Storm
Other game specifically mentioned in the complaint of Bertolino.
Condor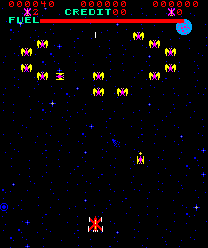 Clone of Phoenix with an additional element: the fuel bar (which disfigures the graphics). Emulated in MAME, without any mention of the name Sidam.

Magic Worm
Emulated in MAME, without any mention of the name Sidam too.

Off / Take off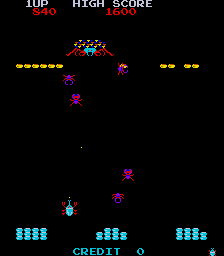 Version of The End (Konami), emulated in MAME. The aliens try the compose the word OFF instead of END.

Explorer
Another game emulated in MAME, without any mention of the name Sidam.
Phozon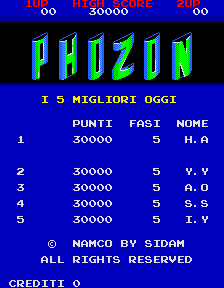 This is one of the many Namco games distributed by Sidam under regular license. The text, as you can see, is fully traslated.
GZ
In this Belgian site
of an exibition-museum, this game appears on a list. Maybe is a case of wrong transcription.