FILE #6
CAPCOM: Pinball Magic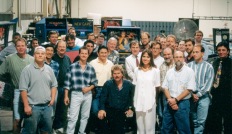 1995: posing before the very first "Pinball Magic" to come off of the assembly line, some of the staff who made the game's existence possible. The man in the center who's kneeling is Brian Hansen, the game's designer; on the right, the girl is Elizabeth Stroll (marketing); at the far right, Python Anghelo, graphic designer.
1995: foto di gruppo alla Capcom Pinball! Ecco lo staff della Linea Assemblaggio, in posa davanti al primo "Pinball Magic" appena costruito! L'uomo inginocchiato con i baffi e' Brian Hansen, designer del flipper. La ragazza di fianco e' Elizabeth Stroll, responsabile marketing; all'estrema destra, Pyhton Anghelo, il grafico.
---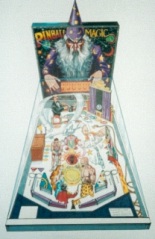 At the beginning, it was just a sketch of Brian Hansen, before becoming a real pinball..
All'inizio, era solo un disegno di Brian Hansen, prima di diventare realta'..
---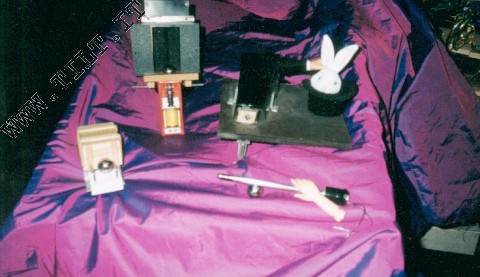 Many parts and features were moved or changed (as usual in the development of any game) before the final pinball can be developed. Here, you can see the original Hand/Magic Wand combination; the original Trunk, and a Magician pulling a rabbit out of the Hat.
Molti componenti e caratteristiche del piano di gioco sono state rimosse o modificate (come normale nello sviluppo di qualunque gioco) prima di arrivare alla versione finale del flipper, quella che poi viene costruita. Nella foto, potete vedere qualcosa del materiale eliminato dal piano di gioco: la mano e mano con bacchetta magica come erano in origine, il trucco della cassa magica, e la mano del Mago che estrae un coniglio dal Cappello.
---
Never released before to the public, the history of Brian Hansen and his purple cloth, when he become a pinball designer, how his first creations were refused at Williams, and how he started to perform magic tricks even before.
Mai rivelata prima, la storia di Brian Hansen e del suo panno viola, quando divenne un creatore di flipper, come i suoi primi lavori furono rifiutati dalla Williams, e ancora prima come inizio' ad eseguire trucchi magici.
---