FILE #3
BALLY/WILLIAMS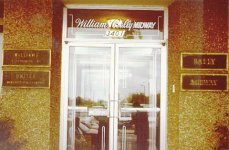 Welcome to Bally / Williams / Midway / United!
Benvenuti alla Bally / Williams / Midway / United!
---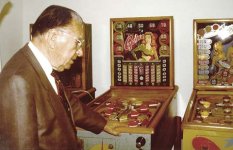 In a hidden room, Steve Kordek hides a rare sample of the first pinball he designed...
In una stanza nascosta, Steve Kordek conserva un raro esemplare del primo flipper da lui progettato...
---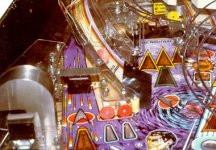 In the same room, there are some prototypes of recent pinballs: here is one of the first 'Star trek: the next generation'. Note that the black 'neutral zone' is wider than on the normal production games, and then the plastics are still missing. Even the left ball return (at the left of the spinner) has a different look...
Sempre nella stessa stanza, sono custoditi alcuni prototipi di flipper recenti: ecco uno dei primi 'Star Trek: the next generation'. Notare che la parte nera della 'Neutral Zone' e' molto piu' grande, e nel piano le plastiche sono tutte trasparenti. Persino il ritorno palla di sinistra ha il metallo diverso...
---
Each designer has his/her own sample of the pinball under construction. These are the firts samples of 'No Fear', made using some cabinets and plastic parts of a previous game, 'Theatre of Magic'.
Ognuno dei designers ha una 'copia' personale del flipper a cui sta lavorando. Ecco i primi 'No Fear', costruiti con pezzi del modello precedente, il 'Theatre of Magic'.
---