Zaccaria Gallery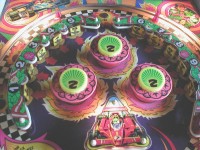 Bumpers area (click to enlarge)
This is probably the most amusing part of this pinball. The three bumpers are surrounded by a half-circle of ten stand-up targets. The only way to hit the targets (and advance the center special) is to let the bumpers do the work for you!
~::~
More playfield artwork (click to enlarge):
~::~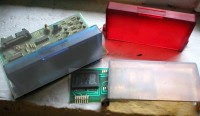 Displays (click to enlarge)
Zaccaria had some original ideas for score displays. In their machines, there was a sixth display that, according to the game adjustments, was used to show the highest score to date, or a random score to beat. Plastic shields were used to give different colors to the displays: amber for the players score, red for the credits, and blue for the high-score. This early machine used 6 digits display, but could show a score over 1 million points with a flashing "1" in the rightmost digit. Later, Zaccaria adopted 7 and 8 (!) digits displays.
~::~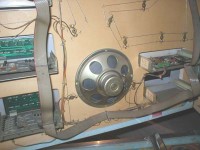 Speaker (click to enlarge)
Another Zaccaria oddity: the speaker is mounted on the backbox panel! The sound board uses the SN76477 sound generator IC, that means lots of "bleeps" and "buzz" - but at least they sound different from Bally and Williams effects of the same period.
~::~
More photos from the restored machine, sooner or later on tilt.it!
..and if you're into Formula 1, don't forget to check this website :-)