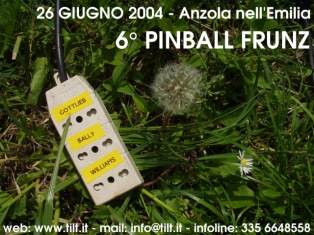 This year we made it too!
Thanks to everyone who attended it, and a big Thanks! also to all the valued contributors for the pictures (and pinballs!) which follows. In no special order: Massimiliano Vitasevic, Piero Cavina, Valentina and the ITVAC group!
Anche quest'anno è andata!
Grazie a tutti coloro che sono intervenuti, e un grosso Grazie! in particolare a chi ha fornito i contributi fotografici (e di flipper!) che seguono. Senza un ordine particolare: Massimiliano Vitasevic, Piero Cavina, Valentina ed il gruppo ITVAC!
Le foto - The pictures
Con che cosa si è giocato - The games we played
Elettromeccanici - electromechanicals
Elettronici - solid state
Ospite speciale - Special guest
un mobile RMG Jamma rimesso in piedi in poche ore! - a RMG video-game Jamma cabinet fixed the very same day!
Lo staff di Tilt! ringrazia per la partecipazione..
..e vi da' appuntamento all'edizione 2005!
Tilt!'s staff thanks everyone for the participation..
..and awaits you at the 2005 edition!
---