Zaccaria
| | |
| --- | --- |
| | |
Fratelli (bros.) Zaccaria, Calderara di Reno (Bologna) was the tycoon of Italian game industry.
Brothers Zaccaria were named Natale, Marino and Franco; you can found their initials in the company logo.
Manufacturer of electro-mechanical pinball for decades, it has been for a period the fourth largest manufacturer worldwide (after Bally / Midway, Williams and Gottlieb) and the first outside USA.
In 1978 it started to build electronic pinball machines (the first one was Winter Sport), and then video games.
He had already begun to distribute video games from America under license.
His first original games, in fact, they were more or less faithful reproductions of success of other companies. But they were not bootlegs, the project was original, just the idea was "stolen."
Zaccaria has never copied video games illegally. There were some bootlegs running on hardware made (at least partially) by this firm: they should be works made by unknown manifacturers, using some part of Zaccaria hardware.
In 1988, Zaccaria is bought by Alfredo Cazzola. The main production site of Zaccaria become the site of Mr. Game. a pinball manufacturing. The Zaccaria name will appear in a few products of Mr. Game, which will go bankrupt in 1991.
The Zaccaria brothers have moved in the tiny Republic of San Marino and founded Tecnoplay, which distributes amusement machines, builded under under license, in Italy.

| Name | Orig. | Year | Emul. | Info |
| --- | --- | --- | --- | --- |
| TV Joker | | 1974 ? | | Copy of Pro Hockey (Williams) |
| Circus | | 1977 | | Copy of Exidy original |
| Off Limits | | 1978 | | Copy of TBM original |
| The Invaders | | 1978 | | |
| Dodgem | | 1978 | | |
| Galaxia | | 1979 | | |
| Astro Wars | | 1979 | | |
| Space Fortress | | 1980 | | Copy of Star Castle (Cinematronics) |
| Space Pirate | | 1980 | | Copy of Rip Off (Cinematronics) |
| Quasar | | 1980 | | |
| Phoenix | | 1980 | | Copy of Amstar original |
| Sea Scare | | 1980 | | Copy of Tomahawk 777(Data East) |
| Scramble | | 1980 | | Copy of Konami original |
| Sea Battle / Armada | | 1980 | | |
| Buck Rogers | | 1981 | | Copy of Sega original |
| Vanguard | | 1981 | | Copy of SNK original |
| Scorpion | | 1981 | | Designed by I.G.R. |
| Laser Battle | | 1981 | | |
| Eyes | | 1982 | | Copy of Techstar original |
| Dribbling | | 1982 | | Copy of Model Racing original |
| Cat and Mouse | | 1982 | | |
| Money Money | | 1983 | | |
| Arcade Super-Reflex | | 1984 | | Copy of AEA original |
| Hyper Sports | | 1984 | | Copy of Konami original |
| Safari | | 1984 | | Copy of Portraits (Olympia) |
| Shooting Gallery | | 1984 | | Designed by Seatongrove |
| Jack Rabbit | | 1984 | | |
TV Joker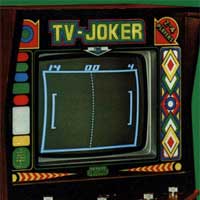 A licensed veersion of Pro Hockey by Williams (1973). PCB should be identical.
Off Limits

Image of the mobile where are shown the selectable types of barrier. Photo courtesy by Vernimark.

Version made on license of Breakout evolution created by TBM. This version had a player-controlled barrier selector, with six types available. See TBM page for more information.
The Invaders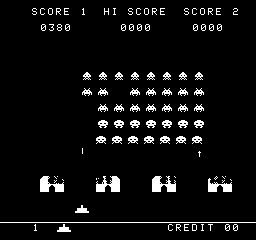 First of two Zaccaria games running on a simple PCB with Signetics 2650 CPU. It's not a hack of Space Invaders, it's just a...remake! The Sidam has made his own version, Super Invader Attack; we don't know if Zaccaria gave permission or not. Leisure Games build this game under license.

Dodgem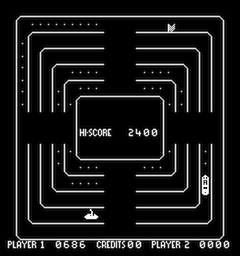 Second Zaccaria game, runs on the same hardware of The Invaders. Leisure Games build this game under license.
Galaxia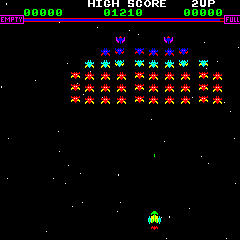 First original color game; emulation in MAME is almost perfect.
Astro Wars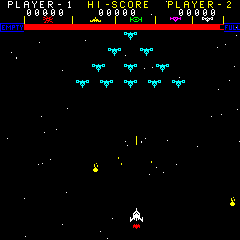 This game, and Galaxia, run on a hardware similar to Namco's Galaxian one, also used for many other games in the world and well emulated by MAME.
Quasar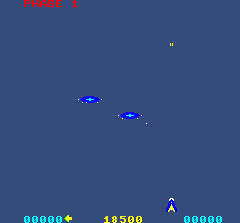 Considered the first game "100% Zaccaria", it's original in ideation, software and hardware.
It was also distributed in the USA by U.S. Billiards.

MAME emulates two versions of it: main ("quasar") and alternate ("quasara"). The alternate version, in fact, seems to be the final distributed version, being the other much faster and a lot harder, to the point of being almost unplayable from the third stage. Maybe it's a problem in emulation.
Sea Battle / Armada

The game simulates a naval battle.
It was programmed by I.G.R. with the name Armada. Zaccaria printed some serigraphs with this name, and they have been found; then the management decided to rename the game as Sea Battle. However, at least one cabinet named Armada was seen in operation in an arcade, and it was a standard vertical one. The cabinet in Sea Battle instead, was similar to that of many racing games, with a seat and a complete cover.
According to a report, Armada was distributed under the Olympia brand; this has never been confirmed.
This game is emulated in MAME but runs poorly at the moment. The image on the left is from the Haze site.
In the image on the right, taken from the brochure, the graphics with the exact colors.
There are two versions in MAME: the second does not work because the dump is missing of the ROMs containing the code. In this latest version the names of many ROMs start with "armada".
Scorpion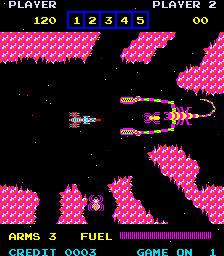 This game was engineered by I. G. R.; there are some writings on the logic board.
It came with two different hardware configuration, and there's even a pirated foreign versions (singular for an italian game). Different versions are emulated in MAME.
Laser Battle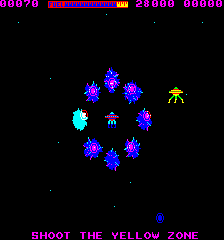 Last space-themed game from Zaccaria, also manufactured under license by Bally / Midway with the name Lazarian. The MAME emulation has been greatly improved in the 0.169 version, making the game 100% playable.
Eyes
Licensed game. Two versions of the cabinet were manfactured; the pictures of the first version were "too scary".

Cat and Mouse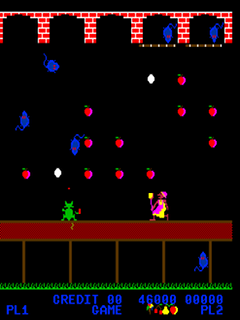 It's a bit of strange game, featuring a cat who is the shame of the feline race and hits the mice with stones instead of simply eating them.
The game is emulated in MAME; in the 0.171 version many improvements were added, and the result is almost perfect (no absolute fidelity in the sound emulation, some filters need implementing).
Money Money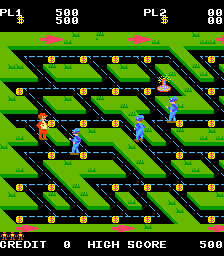 Ambitious project, a game in three different phases (walking, swimming, driving) featuring speech synthesis. The emulator MAME required a big effort, but now it's good.
Shooting Gallery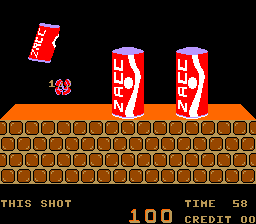 The game was made entirely from British company Seatongrove, but it is not clear whether it has distributed by Zaccaria only.

Jack Rabbit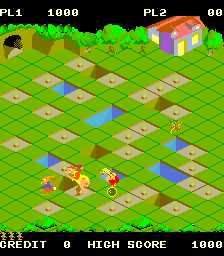 In this last original game by Zaccaria - well emulated in MAME - the characters are very similar to the cast of the old Disney movie "Song of the South": Br'er Rabbit, Br'er Fox and Br'er Bear. We don't know about any reaction from Disney enterprises…
Well emulated in MAME, Present with three version, including a "Special Edition: Do not ship" one.
Other Zaccaria Productions
Versions of videogames made by Zaccaria for distributors outside of Italy:
Super Cobra (1981, Konami) for AVG (Germany);
Tactician (1981, Konami, probably from Sega port) for Seevend, and maybe NSM Löwen (Germany);
Pac and Paint (1981, version of Crush Roller by Kural) AVG (Germany);
Zaxxon (1981, Sega) for NSM Löwen (Germany), this can be a german adaption of Tactician, originally made for Seevend (the Zaxxon technical manual is the Tactician manual with two sheets added);
Hustler (1981, maybe a version of Video Hustler by Konami), for NSM Löwen or Seevend (Germany);
Fitter (1981, Taito, probably from port Round Up by Amenip) for AVG (Germany);
Mr. Do! (1982, Universal) for ALC (U. K.);
Hyper Olympic (1984, Konami) for ALC (U. K.);
Versions of video games made by Zaccaria, but it is not known for which companies (manuals have been found);
Phoenix (1980, Amstar);
Frogger (1981, Konami, probably from Sega port);
Crazy Kong (1981, Nintendo, from Kyoei/Falcon port);
Scramble (1981, Konami);
Fantasy (1982, SNK);
Bootlegs running on Zaccaria hardware, probably "recycled"; the real manifacturers are unknown:

Moon Crest (1980, Nichibutsu);
Puckman (1980, from Pac-Man by Namco);
Comidar (1981, from Amidar by Konami);
(no name on cabinet) (1981, from Solar Fox by Bally/Midway)
Penta (1982, from Pengo by Sega);
Others:
Jump Bug (1982, Kyoei); there are rumors about units showing the Zaccaria logo on screen. None of these unit has been found.
Eggor (1983, Telko/Sanchez); many sources talk about a Zaccaria version, but all the available unit show the Sanchez logo only.