Olympia

One of the best known companies in the italian coin-op scene, was founded by Livio Leante. Their first game, Master's game, was distributed under the brand name Leante.

Administration site was in Milan.
All the work of construction and distribution, however, was carried out at another site located in Bari. Bari was the second city of Italy to have a university degree in informatic sciences, in 1970, after Pisa (1969) and before Salerno (1973), Udine (1979) and Milan (1980).
Two games have been created in collaboration with Seletron.
In 1984, Olympia started managing a games room, called "Astragames", in Milan.
Unfortunately, earnings and sales fell down, and the company went bankrupt in the mid 80s.
Livio Leante then worked in other distribution companies, such as "Blue Star".

| Name | Orig. | Year | Emul. | Info |
| --- | --- | --- | --- | --- |
| Master's game | | 1979 | | Distributed under the brand Leante |
| Long Beach | | 1979 | | |
| Speed race | | 1980 | | Copy of Taito original |
| Asterion | | 1980 | | Unknown (bootleg of Asteroids?) |
| Sirius | | 1980 | | Unknown |
| Monza GP | | 1980 | | |
| Griffon | | 1980 | | Copy of Phoenix (Amstar) |
| Magic Brush | | 1981 | | Copy of Crush Roller (Kural) |
| D-Day | | 1981 | | |
| Savannah | | 1981 | | Copy of Jungler (Konami) |
| Caterpillar | | 1981 | | Copy of Centipede (Atari) |
| Monkey Donkey | | 1981 | | Copy of Donkey Kong (Nintendo) |
| Dribbling / Derby | | 1982 | | Copy of Model Racing original |
| Amidar / Amigo | | 1982 | | Copy of Konami original |
| Vega | | 1982 | | |
| Armada | | 1982 | | Maybe a copy of Sea Battle (Zaccaria) |
| Nibbler | | 1983 | | Copy of Rock-Ola original |
| Portraits | | 1983 | | |
Master's game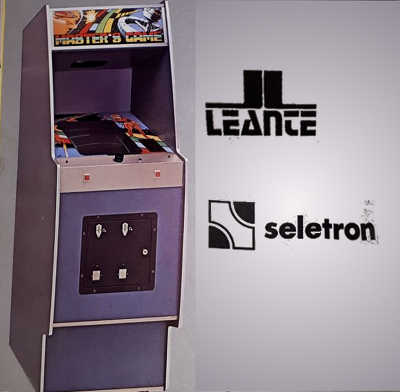 A game similar to Break-out. The flyer does not describe the game in detail, but informs that the board was made by Seletron and the game is sold by Leante (which will become Olympia).
Long Beach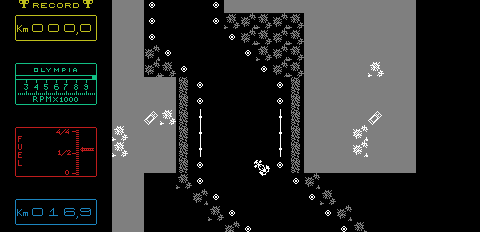 Another game similar to Atari's Le Man or Sprint, it was a driving game with a fixed screen. It was the first game developed in collaboration with Seletron, and perhaps the last.
ANY dumped it, and hap emulated it in MAME 0.152

Asterion

Unknown; maybe a clone of Asteroids.

Sirius

Unknown.

Monza GP

Pictures of an unit repaired by vernimark.

A driving game with high visual and vertical scrolling. From the few people who remember it seems to be very similar to Imola GP by Bacchilega-Alberici; and this game can be a simple version of Monza GP. But the hardware constructions of the two games are different.
Tomasz Slanina (Dox) was the last developer MAME who try to emulate him, with no big success despite the help of the entire MAME Italian team, who also provided schematics. At this time it's included in MAME as not-working game.

Griffon
A pirated version of Phoenix marketed also by Videotron; it's emulated in MAME.
Magic Brush
Emulated in MAME but not assigned to Olympia. It is a version, probably illegal, of Crush Roller (by Alpha Denshi/Kural)
D-Day

It was the most successful game from Olympia, and also their first (and only?) game to land in the USA, distributed by Centuri. MAME emulattion is good enough to make it playable.

There is a completely different and unrelated game called D-Day, made by Jaleco.

Savannah

This version of Konami's Jungler in MAME is listed as Savanna.
Caterpillar
Centipede clone. Probably an illegal copy. It is emulated by MAME, which is not assigns it to Olympia and classifies it as created in 1980 (instead of 1981).

Monkey Donkey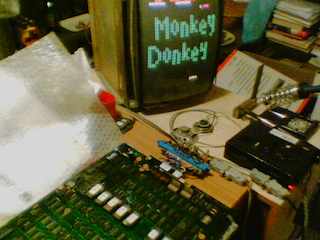 It's a bootleg of Crazy Kong Kyoei, or according to other versions of Crazy Kong Part 2 of Falcon. Both are in turn unauthorized copies of Donkey Kong by Nintendo. It is emulated in MAME, where however, it does not appear as a product of Olympia.
Info and pictures courtesy of tirino73.

Amidar / Amigo
Olympia has produced, on regular Konami license, its version of Amidar. But it was also noted bootleg some copies of the bootleg Amigo with the indication Olympia (not the one used for the MAME emulation).

Vega

Above, the window sticker of the cabinet: below is a screen shot from the Tomasz Slanina site that shows the actual state of emulation.

Space game with vertical scrolling. MAME at this time manages to emulate it partially, with not enough accuration to be fully playable.
Armada
This game was seen for a short time. and hardly anyone remembers him with precision.
It was similar to games like Sea Wolf Midway: ships crossed the screen horizontally, and the player had to hit them.
It resembles Sea Battle (Zaccaria), judging from some prelimary screen snaps of this game.
If so, Armada is likely to be a licensed version of Sea Battle - or vice versa - and in this case the release date of Armada probilmente should be moved ahead, since the Zaccaria game was out in 1980.
There is also, in MAME, a game called "Sea Battle (set 2)", which currently is not working and will never work, because the dumping is missing of all the memory chips who contains the machine-language code. Among the few chips already downloaded, some are called by dumper with a name that begins with "armada".

Portraits
Game with an unique bonus in the world for many years: it was equipped with a video camera installed in the box, and the top scorer could take a picture of him/herself as well as enter his name.
It was also very original as scenario - a photographer must take pictures of animals without being swept, in four different stages - and featured rich graphics and sound.
Olympia licensed it to Zaccaria (it was distributed as "Safari").
Unfortunately MAME emulation is stalled since many years. Currently the game is barely playable: the colors are completely distorted and there is no sound. Also, there are problems with horizontal scrolling, which make it difficult to proceed after the fourth stage.
Olympia was aiming a lot about this game, which instead (perhaps because of its level of difficulty) did not have much success.
In the images above you can see the cabinet and a screen photo (pictures taken from "Videogiochi", issue 12). In the MAME snap below you can see the actual state of the emulation.