Model Racing (MR)

M.R.'s headquarters were in via Brecciata, Montemarciano (Ancona).

The general manager was Lanfranco Chinea.

The technical team was composed by Giorgio Liverotti, Fausto Sarti and Adolfo Melillli.

Gabriele Riccardo was the hardware engineer. Gilberto Corretti - designer, founder of the Archizoom studio and teacher - took care of the cabinets' design.

Before videogames, MR produced electro-mechanical games and light-projection games (such as Duck Shooting).
It was the first Italian company to create an original coin-op videogame, a little before Bertolino did it as well.

In 2019 the programmer Alfredo Melilli releases the Assembler code of some never released games, and after a long work these games were emulated in MAME!

MR went out of business in 1987.
| Name | Orig. | Year | Emul. | Info |
| --- | --- | --- | --- | --- |
| Ufo | | 1975 | | |
| Satellite TV | | 1976? | | |
| Flying Shark | | 1977 | | |
| Daredevil | | 1977 ? | | |
| Road Champions | | 1977 ? | | Copy of Taito original |
| Sub Hunter | | 1977 | | Copy of Taito original |
| Super Road Champions | | 1978 | | Derivation from Road Champion |
| Blue Shark | | 1978 | | Copy of Bally-midway original |
| Claybuster | | 1978 | | |
| Super Shot | | 1979 | | |
| Ozma Wars | | 1979 | | Copy of SNK original |
| Lunar Rescue | | 1979 | | Copy of Taito original |
| Space Chaser | | 1979 | | Copy of Taito original |
| Cane | | 1979 ? | | Never released |
| Orbite | | 1979 ? | | Never finished |
| Gun Champ | | 1980 | | |
| Stratovox | | 1980 | | Copy of original Sun / Taito |
| Crazy Climber | | 1980 | | Copy of Nichibutsu original |
| Rally X / Radar Cross | | 1981 | | Copy of Rally X (Namco) |
| Coccinelle | | 1981 | | Copy of Lady Bug (Universal) |
| Scramble | | 1981 | | Copy of Konami original |
| Satan of Saturn | | 1981 | | Copy of SNK original |
| UniWarS | | 1981 | | Copy of Irem original |
| Fantasyland | | 1981 | | Copy of Fantasy (SNK) |
| Dribbling | | 1982 | | |
| (pallanuoto) | | 1983 | | Presented, but not distributed |
Ufo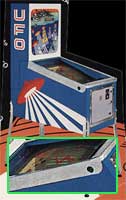 The original game cabinet (from flyer)
This is the first original game made in Italy, and was presented in January, 11 1975 at ATEI in London. During this exibition, MR leaders reached an agreement with Chicago Coin to distribute the game in the USA. The overseas version was called "Super Flipper" and had a slightly different graphics.
It's a sort of a medley between pinball and Breakout. The score display was made using Nixie tubes, a technology largely used in the first electronic scales.
It does not have a CPU; emulation is difficult.
Vernimark got one PCB and made it working by connecting it at an Hantarex Polo screen. You can see the result here.
Satellite TV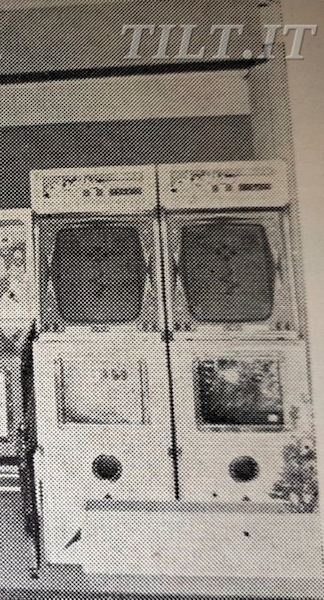 A later version of Ufo. It's not known what the differences are between the two games: According to this picture, the playing field is almost identical. We don'k know about differences between Ufo and Satellite TV. Maybe it's just the same game with two names.
Flying Shark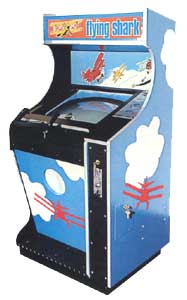 Duel in the sky between a biplane and two other enemies. It does not have a CPU, so emulation is hard to obtain.
Gianluca Cimarello done an almost perfect restoration of an unit. The screen is not original and the score indicator doesn't work properly.
if you havee a copy of technical schemes, please contact me (see Contact page) or a specialized site like Citylan (see Links page).
Daredevil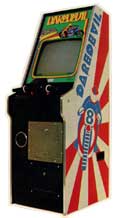 We have no direct info about this game. The flyer says: "Use handlebars to steer motorcycle on to the road, the right handle grip, if twisted, increase speed. Try to overtake the other motor cycle and stay in the lead. Completed 400 Kilometres gives extended play. When the "bleep" signal is heard, this indicates the final lap and the player should try to arrive at the win line before the other riders. Greatful suprise completing 700 Km".
Road Champions
Image taken from the manual, thanks to Any.
Authorized version of a Japanese game by Taito, also distributed in the U.S. by Williams with the name Road Champion. An unit has been found recently.

Super Road Champions
The cabinets of the two versions. Below, a picture of the screen.
Derived from Road Champions. There are no known versions of Super Road Champions manufactured by Taito or any other company, then could be an ehnancement designed directly by Model Racing.
It has a color monitor (while Road Champions's one was monochromatic).
The normal version allowing up to two players, but there was also a compact version for one player (Super Champions Road 1). No CPU, 2 ROMs (yet dumped).
Claybuster
At left: an game photographed just before it was destructed; at right: MAME emulation screen.
Super Shot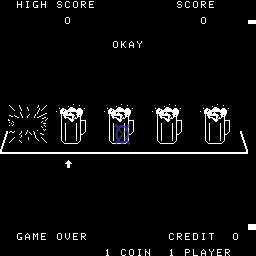 A shooting game with an optical rifle, like Gun Champ and Claybuster. Unfortunately the emulation in MAME, already too fast at the beginning, has become less and less accurate, and now the game is unplayable.
Cane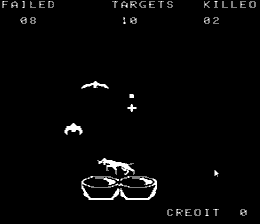 This game was never distributed, and perhaps never fisically build. The programmer, Adolfo Melilli, kept a copy of the floppy disks with the original source code of the program; he delivered the disks to Lorenzo Fongaro and Alessandro Bolgia; then Piero Andreini managed to read the data using KryoFlux (a hardware-software solution to read floppy disks, even 8-inch ones). Finally Jean-Paul Piccato obtained a binary code by compiling the Assembler sources, and later, with the help of Melilli's comments and information on the other Model Racing games with similar hardware, managed everything to run on a virtual machine emulated within MAME. My best congratulations for this success! Note that the game does not have an official name: on floppies there was a writing, "Cane" - which in Italian is pronounced "kuh-nah" and means "dog" - and this word was used as a name.
Orbite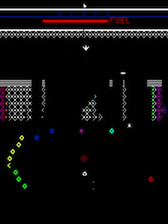 Another unreleased game; unlike Cane, this has never been finished even as a program. Adolfo Melilli developed it on his own, when he had some free time. He made this available, together with Cane, to the same people who made him emulatable. Sound, score and "game over" have not been implemented (the game continues indefinitely). "Orbite" means "orbitations" in Italian and should be pronunced "orbeetah"; is all that was written on the floppy disk label, a real name doesn't really exist.
Gun Champ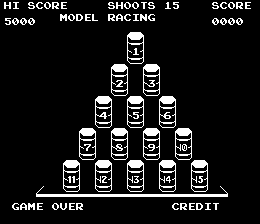 Another simpler shooting game with optical rifle. It was programmed by I.G.R.. then sold to MR.
Stratovox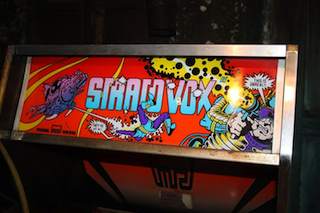 Image courtesy of Patryck.

Dribbling
On the left, the cabinet. You could remove the seats and lift the machine up with levers to play standing. On the right, a screen snap from MAME emulation (currently lacking sound).
The great success of MR, very popular in Italy because it was out in the period of the Italian victory at the Soccer World Championship in Spain. It was produced under license from Olympia and Zaccaria too, and a tournament was also organized.