Midcoin / De Georgio Bruno

"De Georgio Bruno s.r.l." was a pinball manfacturing company in Naples.
According to a publication of SAPAR, they started production of video games in the late 70s, with a Breakout-like game.
The founder, Bruno De Georgio, gathered a group of tecnicians in 1982, to design coin-op video games.
The staff was as follows: Peppe Panico (hardware designer), Alberto Troiano (programmer), Tullio Tesorone (graphic and sound), Maurizio Tesorone (various), Guido Botteri (sound and speech synthesis).
The first works were done on the Konami Scramble hardware. The first test of all was a simple unreleased hack of this game: "Mercurio".
The first "real" game was SpiderWeb. Midcoin created a version, for sale, with the graphics completely changed; this became "Hot Shocker" and was sold to Felaco.
On February 15, 1983 Midcoin s.r.l. was officially opened in Corso Meridionale, Naples.
This company produced four coin-ops, but it is also remembered for one of the first (and few) juke-boxes equipped with CDs.
Midcoin went out of business at the end of the 80's.
Bruno De Georgio then switched to other business activities, like a discotheque-club on the island of Ischia. He died in 2011.
Thanks to Alberto Troiano for the unvaluable info.

Mini Break-Out
According to Marco Cerigioni (SAPAR), this is the only coin-op marketed with De Georgio brand.
Anno Domini 2083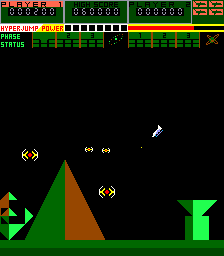 A.D. 2083 was exhibited at E.N A.D.A. 1984, in Rome, where Midcoin was looking for a distributor or a buyer.
It is a surprising game for its time: six steps, background music, even speech synthesis.
A-D- 2083 was the first video game marketed with the Midcoin brand. It was not widespread. In spring 1985, a reader of the magazine Videogiochi reported the presence of a working unit in an arcade of Caltagirone (Catania).
It was emulated in MAME
It is a game based on the Konami Scramble hardware - like Spiderweb and the derivative work Hot Shocker.
In correction of what is written on this site until recently, a subsequent game called "A.D. 2084"

doesn't exist.
SpiderWeb
The first real project of Midcoin staff: a game where you had to color a spiderweb drawn on the screen by hovering over, and to catch a big fly.
When it was ready. Midcoin prepared a version "in disguise", where instead of spiders and flies were workers and telephone cables. This version has become Hot Shocker, and was sold to Felaco.
Micoin has distributed the original version of SpiderWeb later, in 1983 or 1984.
Unfortunately it seems that there are no more unit of SpiderWeb
Wall Crash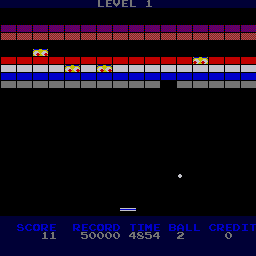 A classic breakou-like, emulated in MAME
In the beginning it was supposeed to be a "Cloaker", ie one of those mini games incorporated in gambling machines, as intermission or to hide the real game to Police.
It was successful: it was also exported to Japan and Lebanon.
It exists an unauthorized version, made in Spain by Fedesa, called "Brick Blast"

Wink

An evolution of Wall Crash. In this game the bricks build a picture and, for each brick shot down, it played a note of a themed song. For example, a sailboat picture and the Naples typical marine song called "Santa Lucia".
Top left, a screenshot of the game. The other images were supplied by Alberto Troiano: some EPROM of the game and an advertising match box.