E.G.S.
Electronic Games Systems was founded by two former members of Model Racing staff, G. Peroni and Alessandro Carnevali.

They build a venue in Fano, a few miles from the MR venue in Montemarciano.
E.G.S. produced an hybrid pinball-videogame too, called New York Defence
The company still exists, now sells electronic devices not directly related to videogames. Their main office is now located in Lucrezia di Cartoceto (Pesaro e Urbino).

Crazy Balls


We're able to find only this part of this game, a glass signed "Mike '78" who reports Nat as manufacturer; however, rumors say this game was built and marketed by Bontempi of Rome also.
This was a ball and paddle game with obstacles. Its monitor was monochromatic.
Now the important part. This game introduced the writing of the top-scorer name on the screen! A little keyboard placed in the cabinet allowed this. And this game came out before Atari Asteroids, who many sources identify as the first coin-op to own this feature.
Attack Force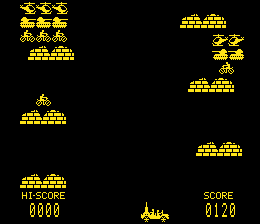 This game runs on a standard hardware, very similar to Space Invader's one.

Thanks to Piero Andreini, who found an unit, got it fixed and dumped the ROMs. The game is emulated in MAME starting from version 149. Sound is missing at the moment.