Cartellino del "Sinbad" Europlay (1979) - A card from "Sinbad" by Europlay (1979)
During the seventies, many italian pinball manufacturers were struggling to make their products more appealing. Some, like Nordamatic, introduced simple electronically generated sounds in their machines, insted of the classic electro-mechanical bells. Electronic sound units were also produced to replace the bells in older machines. Those devices could also play the infamous "biri-biri sound", that is a long sequence of sounds announcing that the player had reached a high score. Usually, the player that made it to the "biri-biri score" was awarded a free drink!
Negli anni 70 i produttori italiani di flipper elettromeccanici cercavano in ogni modo di rendere più accattivanti i loro prodotti. Alcuni, come Nordamatic, dotarono i flipper di rudimentali effetti sonori elettronici al posto delle classiche campanelle. Vennero prodotte anche delle unità per suoni elettronici, per rimpiazzare le campane nei modelli più vecchi. Questi dispositivi potevano anche produrre il famigerato "suono del biri-biri", ovvero una lunga sequenza sonora che segnalava il raggiungimento di un punteggio particolarmente elevato. Di solito, il barista premiava il giocatore che aveva raggiunto il "biri biri" con una bevuta gratis!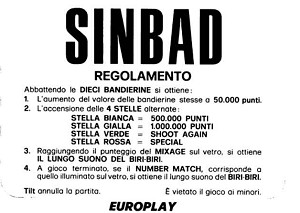 Istruzioni del "Sinbad" - Sinbad rules sheet
In the picture below, A sound effects unit made by CMR. Download its sampled sounds in mp3 format!
Nella foto sotto, un'unità per suoni elettronici della CMR. Scaricate i campionamenti in formato mp3!

click per ingrandire - click to enlarge
ma soprattutto...
but, above all...
---